Purchase the Two-Disc Collector's Edition of Tarzan: Lord of the Louisiana Jungle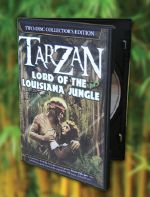 $20 DVD + $5 shipping
(Contact Al Bohl for bulk orders of five or more.)
Disc One:
Tarzan: Lord of the Louisiana Jungle (Documentary - 1 hour 14 minutes)
Special Features:
Featurette: A Conversation with George T. McWhorter • Featurette: Atchafalaya Heritage • A collection of Tarzan yells from fans • The Audubon Zoo
Disc Two:
Tarzan of the Apes (Silent Motion Picture - 1 hour)
This film has been re-edited for continuity. A new musical score by Kermit Poling has been added.
---
Purchase the 24" x 36" full color Tarzan: Lord of the Louisiana Jungle poster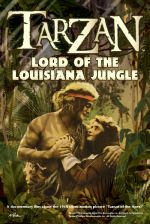 Printed on fine gloss poster paper. Only printing 250 posters. Each will be numbered and signed by Al Bohl.
Numbers 11-250 are available for $25 each. This includes FREE shipping and handling.